All-in-one Clean Station
Simply place your stick vacuum cleaner on the All-in-one Clean Station to easily and hygienically empty the dustbin, while also recharging the battery.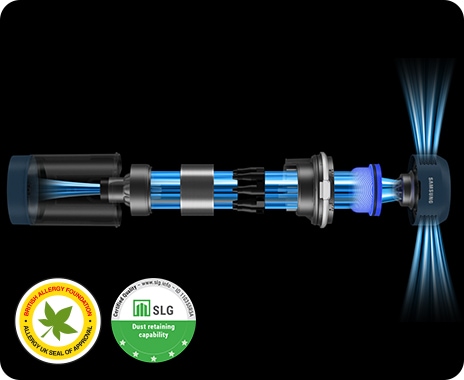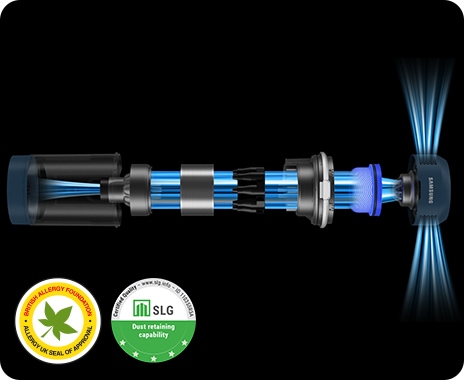 99.999%* Multi-layered Filtration System
Clean much more hygienically with a 5-step Multi-layered Filtration system, which releases clean air as it traps 99.999%*of dust** and reduces allergens***.
More Advanced Cleaning Performance
Clean floors powerfully yet effortlessly. The Digital Inverter Motor generates up to 210W**** of suction power, while the lightweight design ensures easy control.
Easy and hygienic to empty and charge
All-in-one Clean Station
Enjoy an easier way of emptying and charging your vacuum
The All-in-one Clean Station automates dust disposal and recharges the BESPOKE Jet at the same time. Prevent harmful fine dust particles from scattering back into the home and enjoy only clean air with a more hygienic way of dust disposal. The Clean Station automatically empties* the dustbin using 'Air Pulse' technology and traps 99.999%* of fine dust* in an anti-bacterial dust bag. The anti-bacterial dust bag inhibits 99.9% of bacteria growth***.
Extremely powerful, thorough cleaning
More Advanced Cleaning Performance
Clean various types of floor with the maximum suction power. The Samsung Digital Inverter Motor generates suction power of up to 210W*. The aerodynamic design of the air system also optimizes the air flow, while multi-cyclonic air filtration efficiently traps fine dust particles.
Strong suction power, greater efficiency
Digital Inverter Motor
Clean much more effectively and effortlessly with incredible suction power. The Digital Inverter Motor has an improved stator, rotor and 3D fan. It is 47% lighter* and rotates up to 135,000rpm, delivering a strong input power of up to 580W**, high energy efficiency and up to 210W*** of suction.
Extreme suction power & cleaner air
Jet Cyclone
Enjoy cleaner air and extreme suction power with the Jet Cyclone's high-efficiency, multi-cyclone structure. An optimal air path reduces air resistance and its 9 cyclones with 27 air inlets minimize the loss of suction. It also hygienically traps fine dust that's sucked into the vacuum cleaner.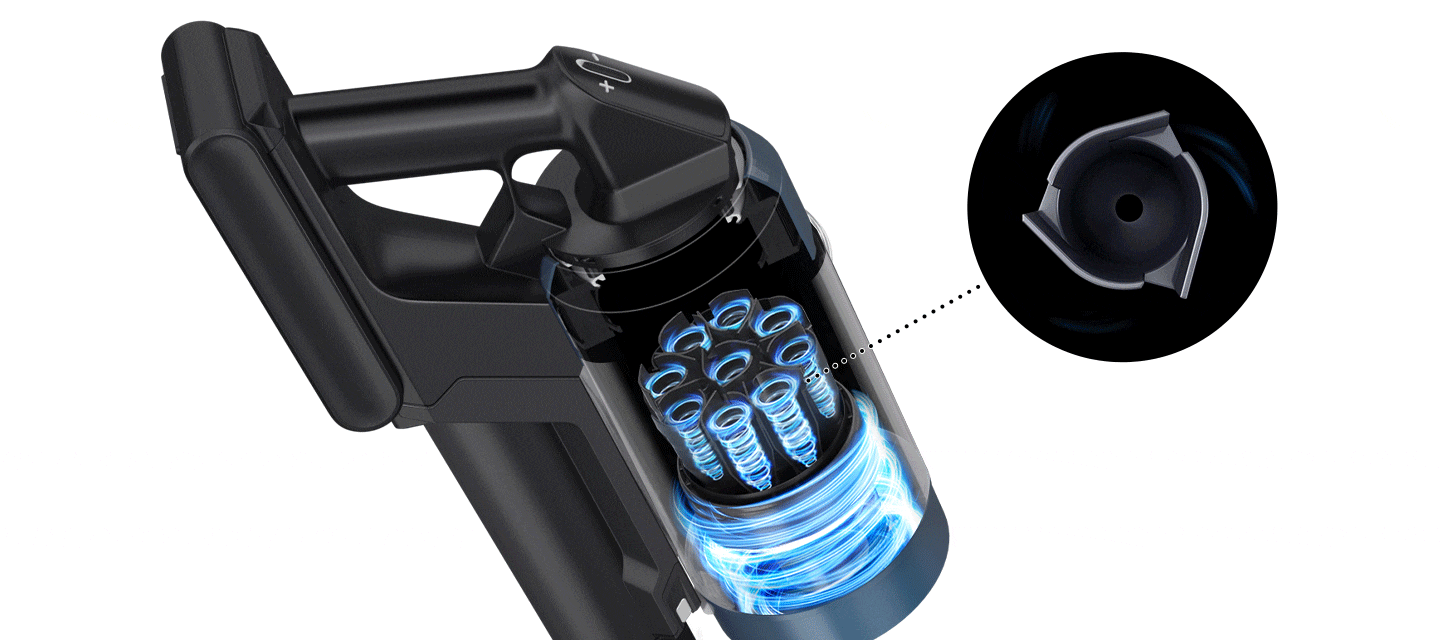 24% lighter design for effortless cleaning
Lightweight Design
Clean your home effortlessly with easy control and movement. A lightweight design ensures maximum usability, and reduces the strain on your wrist. The handheld body weighs just 1.44kg, which is 24% lighter* than conventional Samsung cleaners. So you can easily clean all around your house.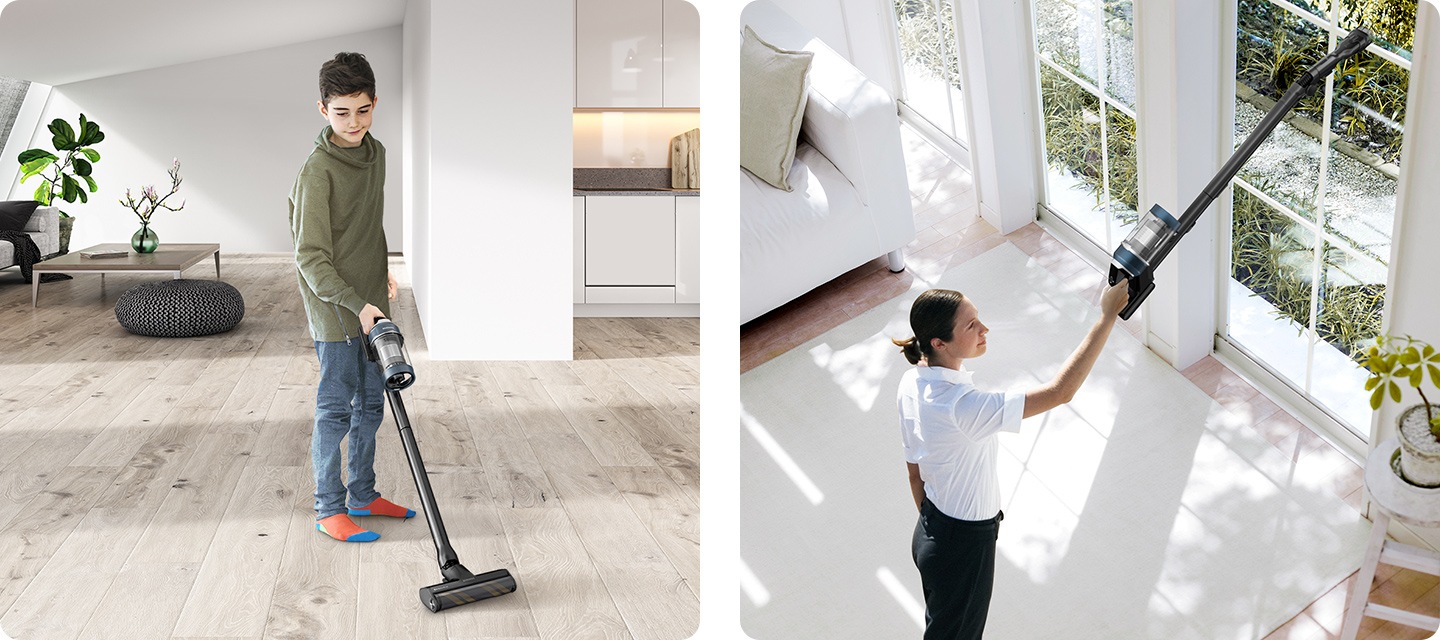 Clean up to one hour** on one battery
Removable and Longer-lasting Battery
Enjoy a long cleaning time without recharging. A high-capacity (2500mA*) battery maintains suction for up to 1 hour**. And you can easily remove and replace it with a spare battery*** to clean for up to 2 hours. It also retains 70% of its original performance up to 500 cycles***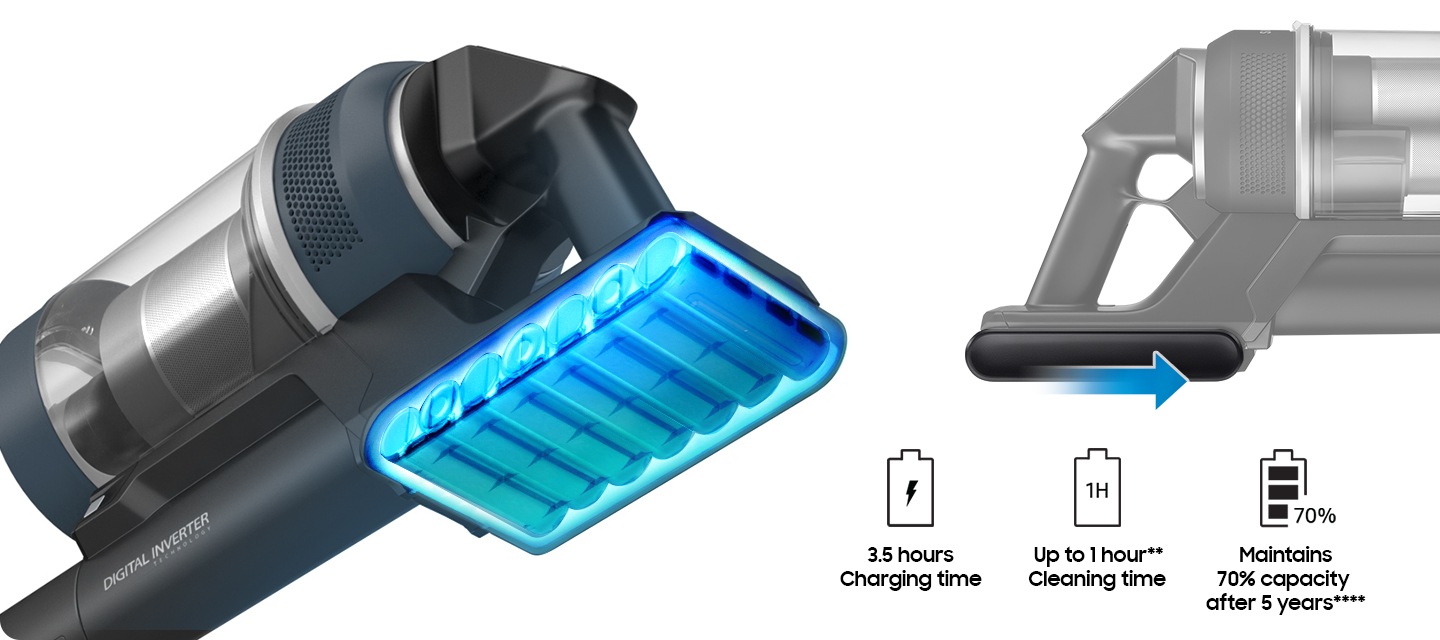 Easy to empty & fully washable dustbin
Washable Dustbin
Keep the dustbin hygienically clean and empty the vacuum cleaner easily. The whole 0.5L dustbin, including the multi-cyclone system, is fully washable, so it can be kept clean and fresh*. It can also be removed easily without detaching the pipe from the body, so you can simply tip out the dust.
Intuitively check status with a glance
LCD Digital Display
Control and maintain the vacuum cleaner more intuitively with an LCD digital display, which supports 28 languages. At a glance you can see the suction level and remaining battery time. And it alerts you to problems and offers solutions. When charging it shows you how much it has been charged.
Professional cleaning on hard floors
Slim Action Brush
Pick up fine dust on hard floors and in crevices using a Slim Action Brush with anti-static silver. It's slimmer and lighter**, so it's easier to handle and clean around furniture. A 180° swivel head lets you reach into corners. And easily maintain the drum by detaching it with one click.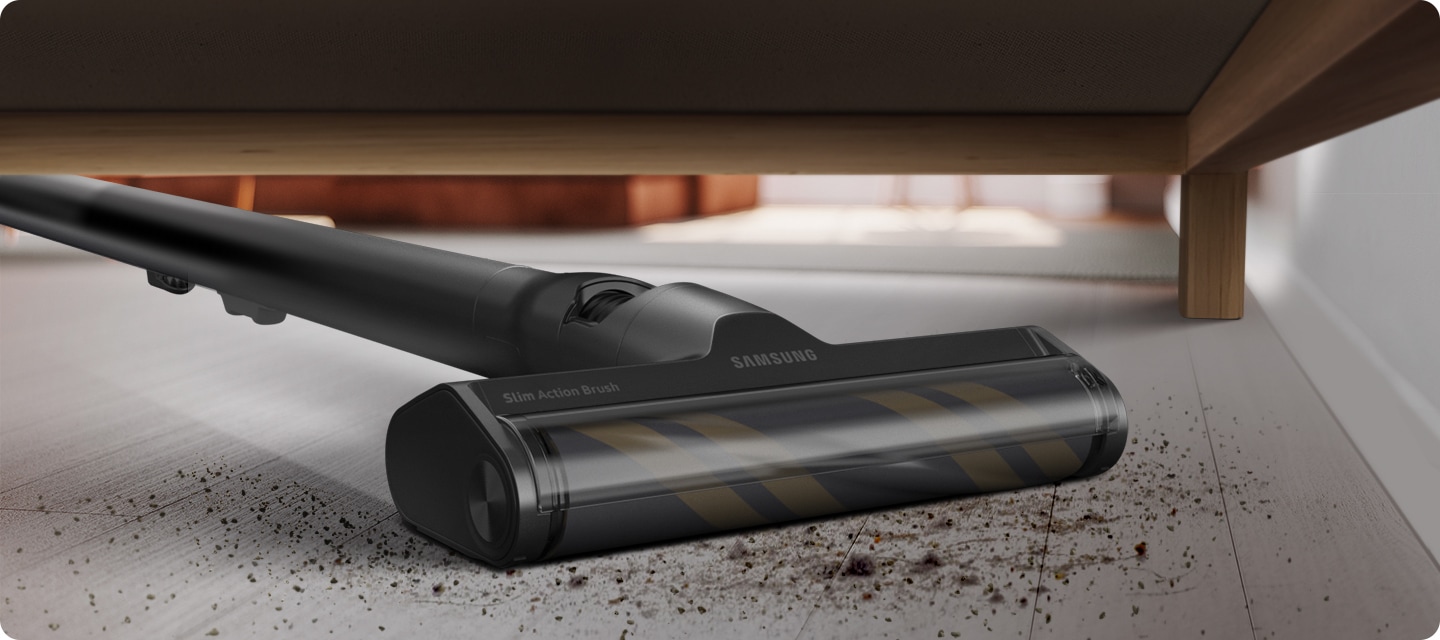 Mop hard floors with dual wet pads
Spray Spinning Sweeper
Clean hard floors easily with a Spray Spinning Sweeper. Dual pads spin at 260rpm for 100 minutes* and are larger and heavier**. You can manually spray more water with an easy to maintain 150ml water tank. And reusable anti-bacterial micro fiber pads*** or disposable wet cloths clean hygienically.

* The stated run time applies to "Wet" mode when the Spray Spinning Sweeper is attached.** Based on a comparison of the Jet One model with a conventional Spinning Sweeper: Brush weight = 1.4kg (with a full water tank) vs. 1.02kg. Pad size = 170π vs. 150π.*** Based on testing by the Korea Analysis Test Researcher, in accordance with the reference standard AATCC-100, JIS-L-1902, KS K 0693, KS K 0890 and AATCC-147. Deac
Light & ergonomic for effortless cleaning
Telescopic Pipe
Clean your home effortlessly with easy control and movement. A lightweight design ensures maximum usability and reduces the strain on wrists. You can also adjust the Telescopic Pipe's length across 3 levels to get the most ergonomically comfortable. So you can easily clean all around the house.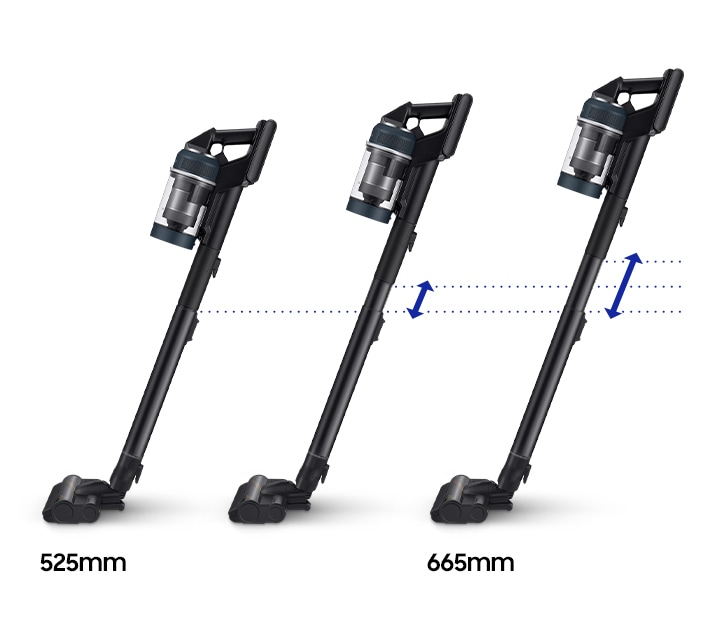 Keep your accessories neat and safe
Accessory Cradle
Store your accessories neatly in the Accessory Cradle*. It means they are easy to find and can be stored more space efficiently. You can also carry them easily wherever you need. And you can efficiently charge a spare battery to suit your lifestyle, without worrying about it being discharged.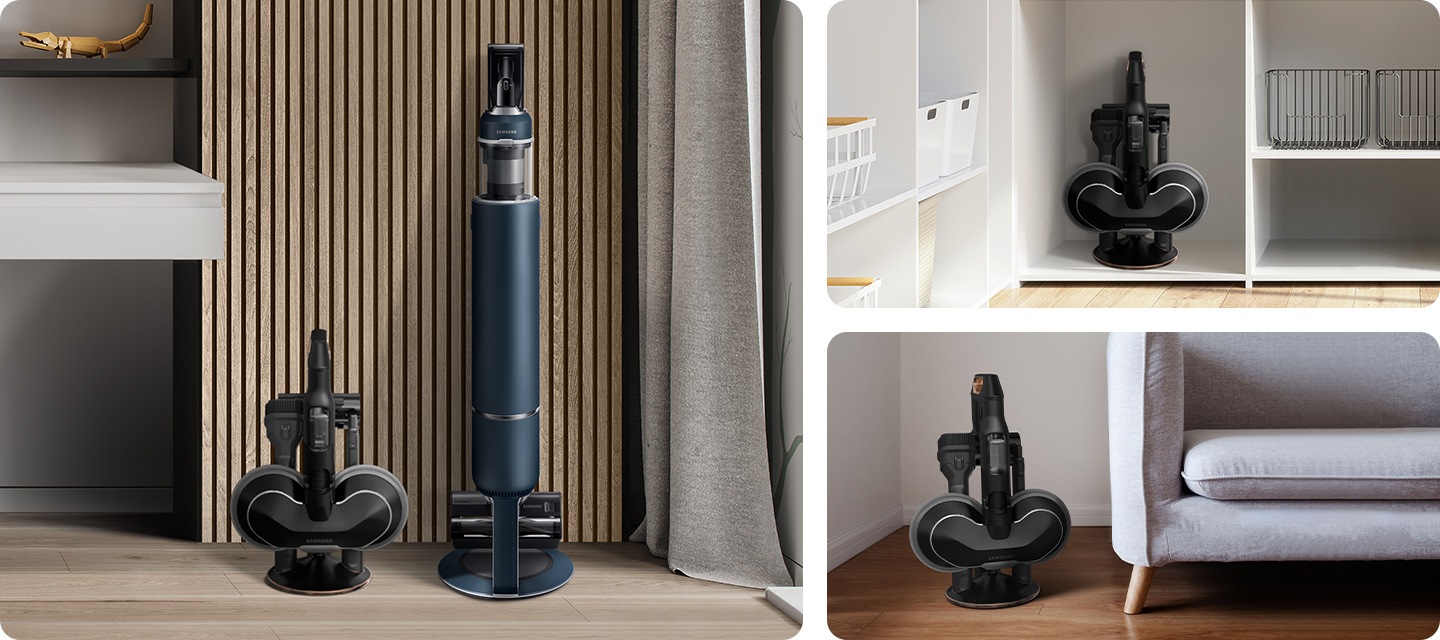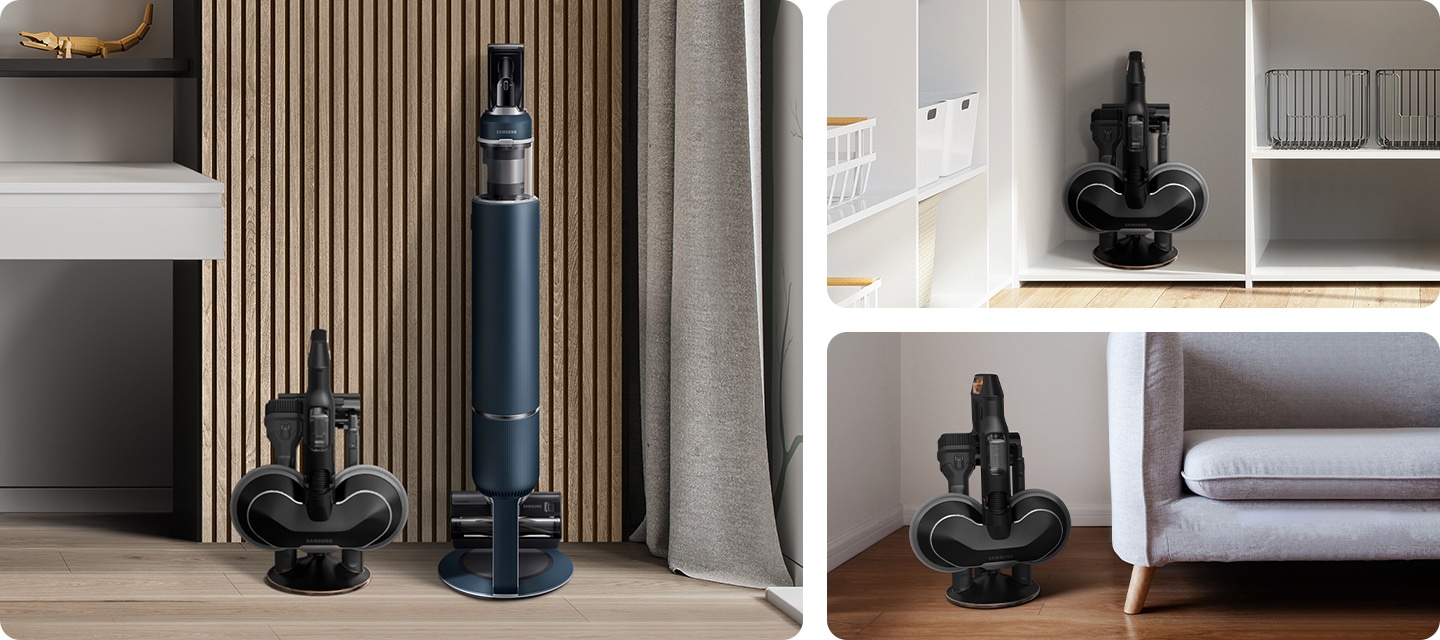 Clean more areas, easily & thoroughly
Accessories (Pet Tool, Crevice Tool, Combination Tool, Flex Tool)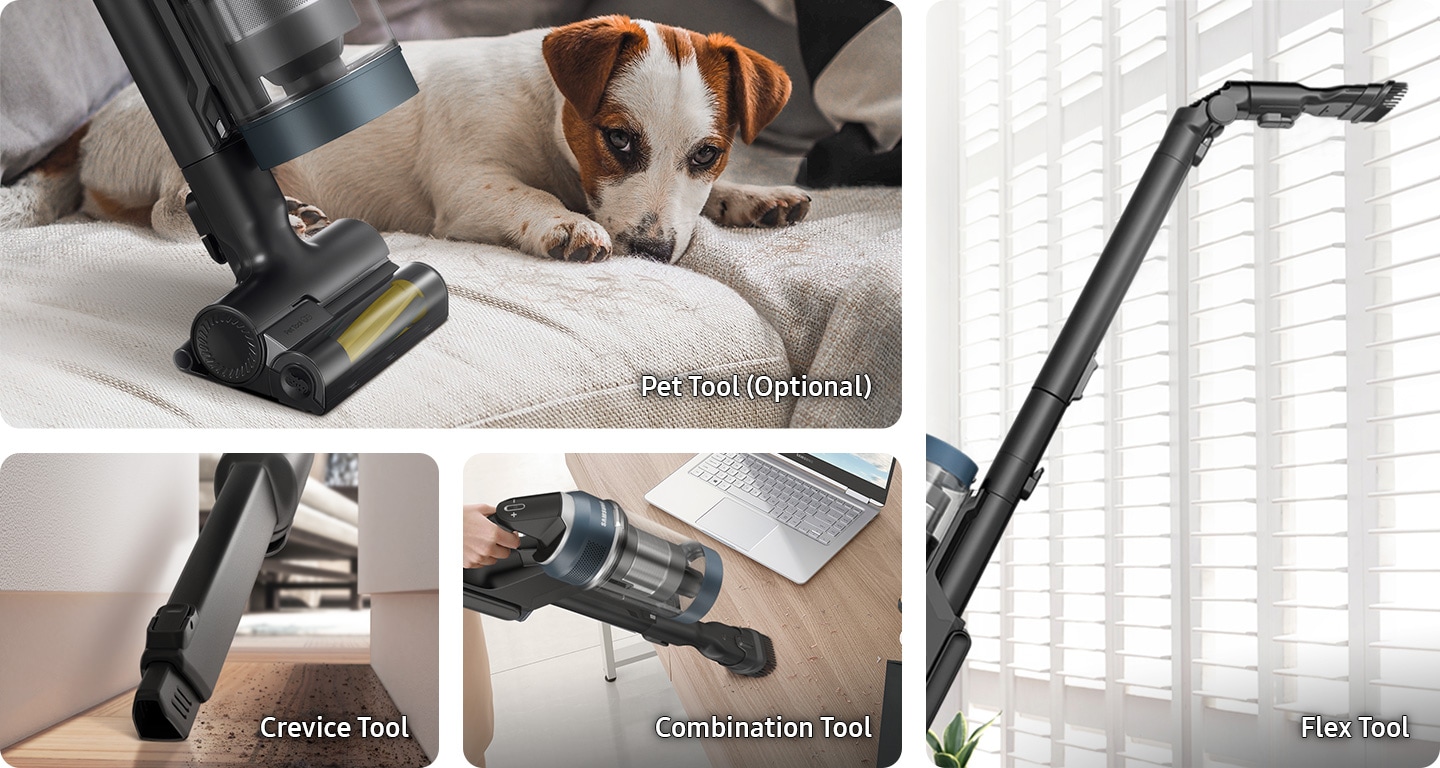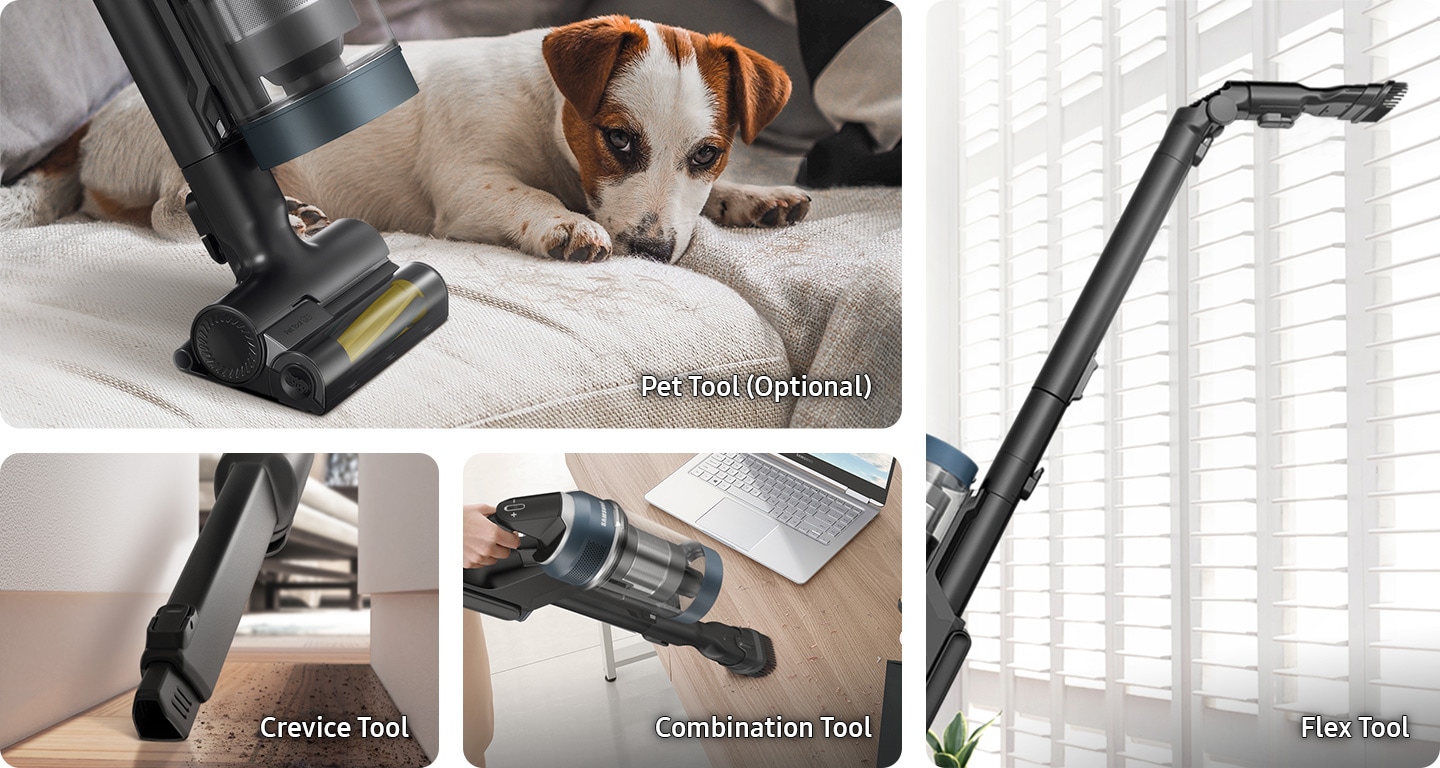 WHAT'S IN THE BOX
General Information
Body Color

Black Chrometal

Point Color

Midnight Blue

Digital Inverter Motor

Yes
Performance
Max Consumption Power

580 W

Suction Power

210 W

Running Time

Up to 60min* * Stated run time applies to the minimum power level with a non-motorized tool attached

Noise Level

86 dBA

Dust Collection Type

Multi Cyclone

Dust Capacity

0.5 L

Display Type

LCD
Battery
Battery Type

Li-ion

Voltage

25.2 V

Detachable Battery

Yes

Charging Station

Clean Station
Brush
Main

Slim Action Brush

Additional Brush (Others)

Spray Spinning Sweeper
Accessory
Accessory 1

Pet Tool

Accessory 2

Combination Tool

Accessory 3

Extension Crevice Tool

Accessory 4

Flexible Tool

Accessory 5

Accessory Cradle
Clean Station Detail (Accessory)
Consumption Power

1300 W

Dust Bag

3 EA

Dust Bag Capacity

2.0 L

Dimension (WxHxD)

300x300x850 mm

Weight

6.7 kg
Filter
Exhaust

Fine Dust Filter

Pre-Motor

Yes
Physical specification
Dimension (Net)

250x1000x210 mm

Dimension (Set)

300x1165x300 mm

Dimension (Package)

408x493x921 mm

Weight (Net)

2.5kg *Slim Action Brush

Weight (Set)

9.2 kg

Weight (Package)

19.7 kg