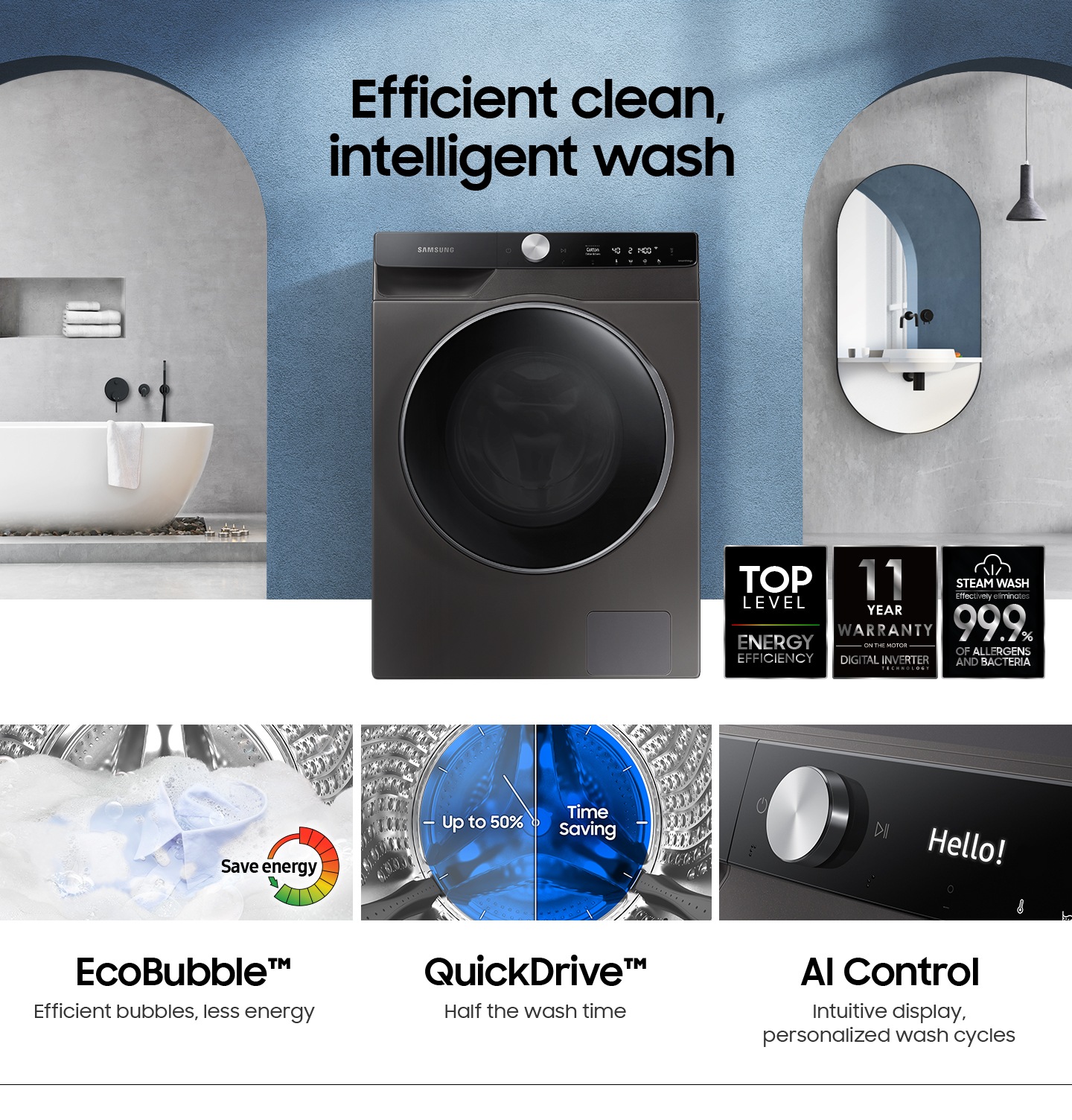 Optimized detergent
Auto Dispense
Get the best washing results* with less waste and effort. Auto Dispense automatically dispenses the appropriate amount of detergent and softener for each load. It also holds enough detergent for up to 1 month of washing**, so there is no need to fill-up the detergent tank after every wash.
Powerful bubbles
Eco Bubble™
Enjoy efficient cleaning, even at low temperatures* with Eco Bubble™ technology. Detergent is turned into bubbles, so it quickly penetrates fabric and removes dirt easily, while saving energy and protecting its color and texture**.
50% less wash time
QuickDrive™
Spend much less time washing. When activated, QuickDrive™ reduces the washing time by up to 50%*. Its 'Q-Bubble™' technology's dynamic drum rotation and additional water shots create more abundant and powerful bubbles, so detergent penetrates faster and washes quickly and gently.
Hygienic cleaning
Hygiene Steam
Give clothes a deep, hygienic clean with steam. A Hygiene Steam cycle improves the cleaning quality of your wash without pre-treatments. It releases steam from the bottom of the drum, so every item is thoroughly saturated. This removes ingrained grime and 99.9% of bacteria* and allergens**.
Durable performance
Digital Inverter Technology
Digital Inverter Technology utilizes strong magnets for a quieter* and more powerful performance, but consumes less energy than a Universal Motor. By eliminating the use of brushes, it provides outstanding durability** – backed-up by a 11 year warranty.
Wash in 39 minutes
Super Speed (39 mins)
Cut your daily laundry time and get clothes thoroughly clean. Super Speed washes a load in just 39 minutes*. QuickDrive™ saves time by moving clothes dynamically, while Eco Bubble™ ensures powerful cleaning. The rinsing time is shortened using Speed Spray and it accelerates the spin speed.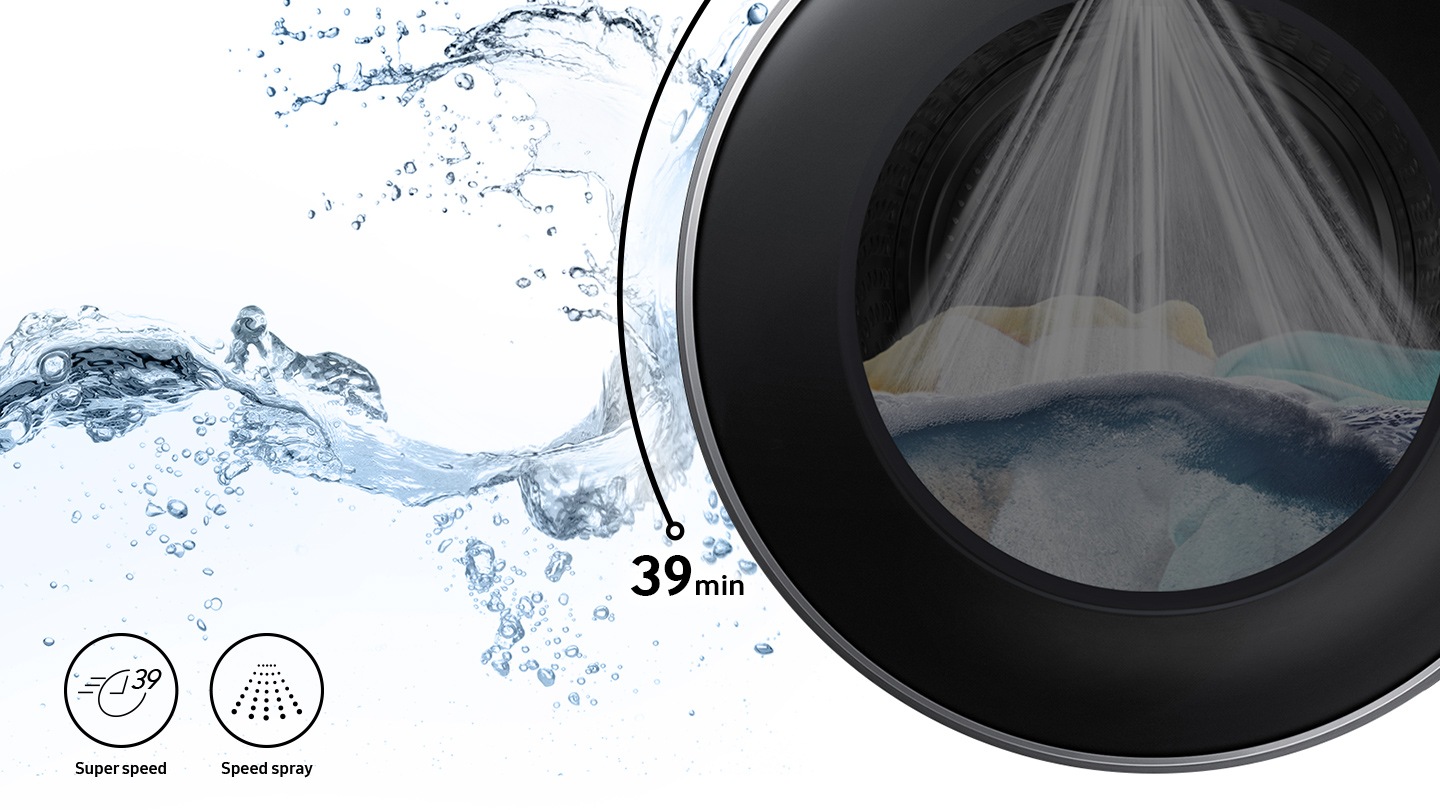 Up to 30% less vibration*
VRT Plus™
Do laundry anytime and anywhere without disturbing anyone. VRT Plus™ technology makes less noise and also reduces vibration by up to 30%* during washes. A new frame design provides greater stability to minimize noisy movement. And vibration sensing technology detects and reduces vibration from the motor.
Intensive cleaning
Bubble Soak
Get clothes spotlessly clean, even if they're really dirty. The Bubble Soak function helps remove a wide variety of stubborn stains, like blood, tea, wine, make-up and grass. Clothes are thoroughly soaked in active bubbles, so dirt and stains are loosened and can be removed more effectively*.
Sanitize with air
Air Wash
Keep clothes hygienically fresh without water and detergent.Air Wash technology deodorizes and sanitizes your clothes, so they always smell fresh.Unpleasant odors as well as 99.9% of bacteria*are removed using just heated air.There's no need for boiling or costly and potentially harmful chemicals.