Energy Saving
Provides optimum cooling in both the freezer and refrigerator compartments, something a single fan cannot do.
Improved Dual Fan Cooling with dedicated fans for each compartment ensures energy saving and powerful cooling.
This is supported by the Eco Thermo-Sensor in each compartment that detects any temperature change separately to enable the ideal temperature change to be maintained in each of the compartments at all times.
Powerful Deodorisation
Triple Power Filter
Triple Power Filter removes odour components*1 and removes bacteria 99%.*2

Vegetable Compartment
Provides plenty of space to store large fruits and vegetables and to keep them fresh at its optimal environment.
Mould-free Door Gasket
Thanks to Hitachi's mouldproofing treatment, the door gasket is mould-free and kept clean.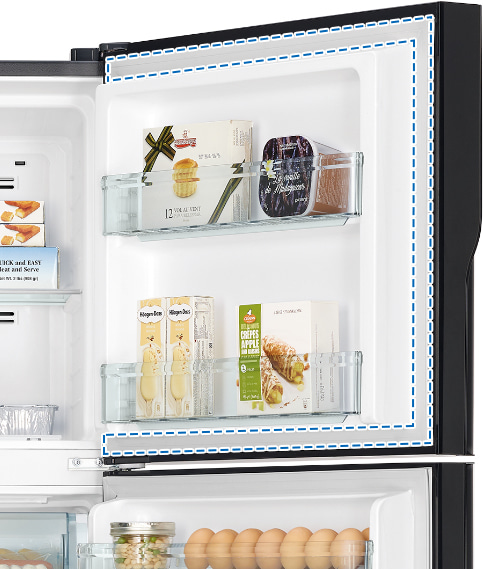 Tech Spec
Top Freezer
Door
2 Door
Series
Stylish Line Series
Stylish
Net Capacity (L)
Total : 340
Refrigerator : 239
Freezer : 101
Dimensions (mm)
Width : 650
Height : 1,605
Depth with Handle : 720
Depth without Handle : 720
INVERTER × Dual Fan Cooling
Refrigerator Compartment
Selectable Zone (-3 / +3°C)
Tempered Glass Shelves
LED Light
Vegetable Compartment
Freezer Compartment
Movable Twist Ice Tray
Tempered Glass Shelves
General Features
Dual Sensing Control (Eco Thermo Sensor)
Powerful Deodorization Triple Power Filter
Common Features
Refrigerant R-600a / CFC-Free / HFC-Free / No Frost /
Moldproof Door Gasket
Colour
Brilliant Silver (BSL) / Brilliant Black (BBK)
*

Specifications and designs are subject to change without notice.

*

Colour tone of actual products may differ from those shown in this website.